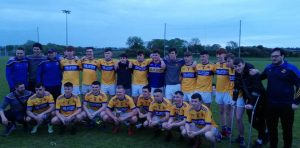 U21 B Championship Final Replay: Owenmore Gaels 2-14 Castleconnor 1-8
Our U-21 lads clinched the B Championship trophy on Wednesday last with a dominant performance at the Centre of Excellence.
After a 5 minute delay as we waited for Castleconnor to emerge from the dressing room we started on the front foot.
A Gary Anderson free opened the scoring after Brian Mahon was fouled. Aaron Walsh followed up with a brilliant goal, steming from Mahon winning a 50/50 in the middle and neat interplay between Oisin Geraghty and Kevin Healy. Castleconnor registered their first score before we underlined our dominance with scores from Geraghty and Stephen Fallon.
A pivotal moment in the game then arrived. After our up to then rock solid defence was breached Diarmuid O'Grady made a super 1 v 1 save to set up a lightening counter. The ball ended up with Aaron Walsh who's blistering pace opened up the opposition to slip Ronan Sweeney in and he finished with aplomb to raise the green flag.
Castleconnor got their second point but failed to turn the tide. We got 4 of the next 5 points before half time from Healy (2), Sweeney and Anderson to send us in with a commanding 2-7 0-3 lead at half time.
We picked up where we left off in the second. Mahon pointed after riding a number of challenges with Healy adding another shortly after.
A high ball in from Castleconnor then yielded a goal to give them a lifeline. However we kept control with the full back line of Roan Conneely and Jamie Callaghan dealing superbly with the attempted ariel bombardment from the opposition.
Playing some wonderful football we scored 4 of the next 5 points (Fallon (2) and Healy (2)) leaving us 12 up with 10 to play and in control. Castleconnor managed 3 consolation scores with a Fallon point inbetween. An unsavoury melee took place in the last minute resulting in 5 red cards.
The final whistle sounded to the delight of the superb support we received, with captain Cian Whiteside accepting the cup.
Well done to the lads on an excellent performance and deserved win.
The lads are back in action for the first team on Sunday when we face Easkey in Ballisodare in a crucial division 2 game at 1pm.
Team: Diarmuid O'Grady, Roan Coneelly, Jaime Callaghan, Roly Anderson (Jack Foley), Cian Whiteside (c), Aaron Walsh (1-0) (Mark Walsh), James Duffy (Ross Trill), Brian Mahon (0-1), Kevin Healy (0-5, 3F) (Connall O'Dwyer), Oisin Geraghty (0-1), Stephen Fallon (0-4, 1F), Gary Anderson (0-2, 1F) (Callum Tonry), Ronan Sweeney (1-1)