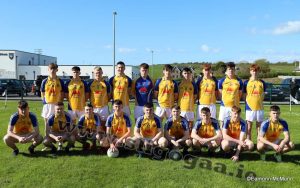 Owenmore Gaels 1-14 Castleconnor 1-14
The U21 team treated us to another classic yesterday evening as this final ended in a thrilling stalemate at the centre of excellence.
A typically cagey opening saw mistakes from both sides as nerves seemed to be evident. Castleconnor were first to impact the scoreboard with a free. Brian Mahon finished of a good move to level before Castleconnor pointed from play.
We responded with an excellent goal from Mahon, started when he caught at midfield, drove forward and finished after a neat one-two with Aaron Walsh.
Castleconnor were unfazed. They took control of proceedings, reeling of 6 of the next 9 points as we looked off the pace. Our scores in this period coming from Ryan Philips (2) and Aaron Walsh.
As we wilted in the evening sun a break from Castleconnor resulted in a penalty been awarded. This was converted and followed up by a 45′ to leave us bang in trouble. We managed to score two before half time, through Roly Anderson (well assisted by Oisin Geraghty) and a free from Philips, with Castleconnor getting one more to leave us 5 down at the turnaround. 1-11 1-6.
We needed a response. Philips began the comeback, quickly followed up with a James Duffy score and another from Philips to pull us back into contention. The teams traded the next 4 scores, ours coming from a free from Kevin Healy and another fisted effort from Philips. However we were starting to dominate. Roland Anderson and Jaime Callaghan were driving us from the back, with Mahon and Duffy shading the midfield battle. Aaron Walsh and Geraghty were covering the ground as we raised the pressure up a notch.
A scuffle resulted in Philips receiving red but despite been a man down we had the momentum. Mahon pointed a close range free after Geraghty was fouled. Castleconnor countered to put two in it again. Duffy crept forward to point and put us back in striking distance. We managed to conjure up another attack, Mahon on the end of it to pop the equalising score and force a replay.
A draw was a fair result in what was an excellent game. Both teams gave their all and will have to do it all over again. Well done to our lads who showed great character to come back and give themselves a second chance.
Huge thanks to the large and vocal support received, no doubt it helped the lads on their second half effort.
Team: Diarmuid O'Grady, Jaime Callaghan, Roan Conneely, Roly Anderson (0-1), Cian Whiteside, Jack Foley (Oisin Geraghty), James Duffy (0-2), Brian Mahon (1-3, 1F), Ronan Sweeney (Gary Anderson), Aaron Walsh (0-1), Gary Anderson (Mark Walsh), Ryan Philips (0-6, 1F), Callum Tonry (Kevin Healy (0-1, 1F)). Subs: Ross Trill, Stephen Fallon, Liam Gilligan, Connall O'Dwyer